Terrorist Content Online (Archive)
The European institutions agreed to a regulation to "prevent the dissemination of terrorist content on the Internet," known as the TERREG regulation. The aim of the regulation is to prevent the recruitment of terrorists. However, the problem is the methods that are to be used to accomplish this.
The regulation introduces ultra-fast cross-border content removal orders without a court order requirement. Police authorities and ministries from any EU country can have alleged terrorist content deleted within as little time as an hour. The proposed regulation does not provide for an independent review of the removal orders before the action is taken.
Therefore, the United Nations classified the EU's legislative proposal as a threat to freedom of expression on the Internet. With the cross-border removal orders, authoritarian-run states such as Hungary could delete any consent they consider to be disagreeable from the Internet by classifying it as terrorist propaganda.
The European Parliament Civil Liberties Committee voted in favour of the regulation. The plenary approved it without vote.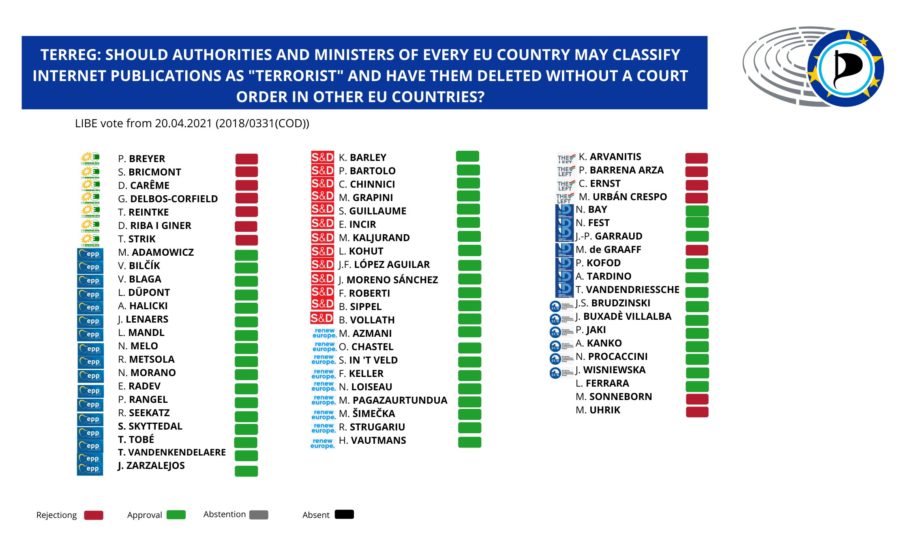 The final text of the regulation is available for download here. Other language versions of the final version are available here.
All trilogue negotiation documents are available for download here.
Recommended reading
News
[post_grid id='595475′]